© 2011 Twin Glass Company Name. All rights reserved.

6422 Black Horse Pike Suite E Egg Harbor Twp, NJ 08234 twinglass@comcast.net 609-645-8834 fax: 609-645-8806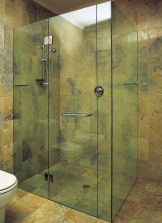 Affordability, Quality, and Satisfaction

Twin Glass Company is the perfect place to go if you are in need of shower doors.  Since 1948, Twin Glass has been providing shower doors for Southern New Jersey, now we are offering custom shower doors and hardware for the do-it yourself individuals.

Twin Glass can provide frameless enclosures, semi-frameless enclosures, framed enclosures, tub sliders, stall sliders, Luxury Euorpean Sliding doors, and heavy glass hardware to homeowners and glass shops.

We have the largest shower door showroom in Southern New Jersey....If you are looking for shower doors, we are the place to visit......Best prices, best quality, best turnaround!

HELP US HELP YOU
We are always looking to improve ourselves. If you have ideas how we can make a better product or serve you better, we'd love to hear from you.
SHOWER GUARD AUTHORIZED DEALER!

Keep your glass sparkling clean forever!

Name:

Email:

Question/Comment:

BUSINESS HOURS

Monday-Friday 8AM-5PM EST